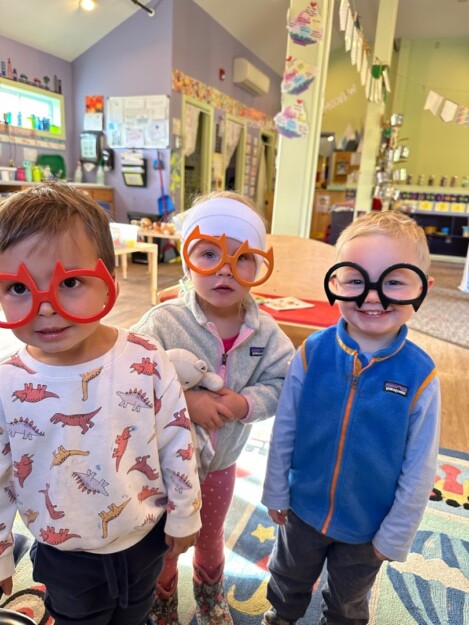 At Apple Tree Learning Centers we believe that play is a child's response to life. This belief guides our curriculum-based programs. In order to successfully teach a young child we must use a play based curriculum to encourage meaningful learning opportunities. Our caring and well-trained staff is dedicated to fostering each aspect of a child's physical, cognitive, social, and emotional development, by focusing on each child's interest and needs. The goals of all our programs are to support each child in the learning process, to help them build trust, learn social skills, develop positive self-esteem, and begin mastery of academic skills.
Our programs are developed to provide an all-encompassing educational environment in which each child can succeed. We strive to prepare a child for real life experiences and help each child grow more aware of all he/she is capable of achieving.
Our safe and warm learning environments are organized and structured to provide a wide variety of worthwhile experiences and to allow a child to pursue a multitude of self-chosen activities. A child given a variety of choices will gain a greater sense of responsibility, independence, and accomplishment. We also strive to help children gain self-regulation skills by being consistent and positive role models ourselves and by utilizing positive reinforcement and redirection opportunities.
Young children's developmental tasks are to build trust, learn social skills, develop positive self-esteem, and begin mastery of academic skills. A program that provides developmentally appropriate activities, well-trained and consistent staff, and a safe and healthy learning environment best supports these tasks.
The educational philosophy of Apple Tree Learning Centers is based on the belief that each child is unique and deserves respect, consistency, care and attention, and to be challenged as they grow. We additionally believe that:
Children learn in different ways, at their own pace and with all their senses. Exposing children to a variety of rich experiences and materials provides for multi-sensory and whole brain learning.
Children do not acquire knowledge by force. They are motivated by their own desire to make sense of their world. Positive interactions with caring adults who allow ample time for children to explore, further enriches the child's daily experiences and learning.
We believe that children learn through play thus we are a play-based center and have structured the environment to reflect this belief. This does not mean that the program is not carefully planned. In fact, our center utilizes the Creative Curriculum, which is a useful tool to enhance the environment and play that children will experience. All activities are steps to growing and developing physically, socially, emotionally, and cognitively (see center's curriculum statement in appendix). We also create assessment plans for each child in these areas. We observe and document children's play, work, behaviors, and interactions to assess their progress (see center's assessment plan in appendix). We use this information to plan and modify the curriculum and our teaching.
Children learn self-discipline as they learn respect for themselves, others, and their environment. Pride in their abilities, family, and culture adds to their developing self-esteem.
Children need a balanced program that fosters independence, choice, and challenge. They also need structure and well-defined limits in order to feel secure.