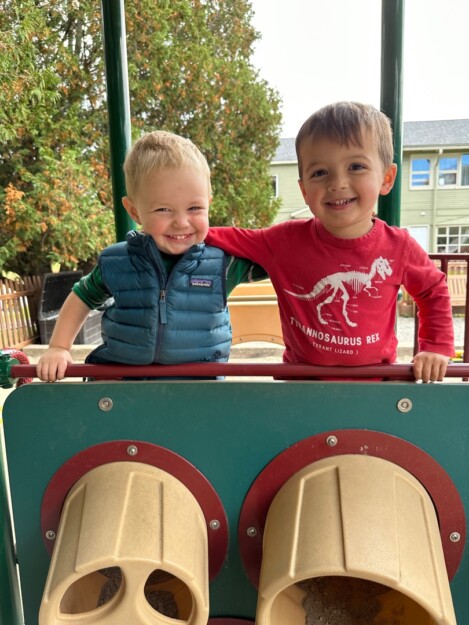 The bridge program is designed for older two and younger three-year-olds, the age group that misses the September 1st Kindergarten cut off date. This program was designed so no preschooler had to spend two years in the same preschool program. This program focuses on the toddler curriculum the first half of the year and switches to the preschool curriculum for the last half of the year.
Apple Tree Learning Centers is a play-based program, however the students are exposed to colors, shapes, numbers, letters, art, sensory activities, song & dance, books, puzzles and many other learning possibilities, all in a fashion and method that works for the individual students needs. The development of language and self-help skills are encouraged and promoted through creative and complementary opportunities.
Toilet learning is a significant step for our older toddlers toward self-awareness, self- identity and self-esteem. Therefore, we work with both child and parent(s) to create a consistent and positive experience for the child during this important process. This classroom is fortunate enough to have two bathrooms directly in the classroom, making it the perfect room for toilet training.
All programs also receive music class with Andrea Soberman through her program, Musical Munchkins. Music is offered bi-weekly to each age group and is currently on Mondays.
The bridge room is a safe and inviting place that offers a diversity of age specific learning tools and social opportunities for children. As the curriculum progresses to the preschool schedule, teachers will begin to focus on emerging skills such as: numbers, name and letter recognition, learning shapes and colors, and specific fine motor development. This will all be through play and social interactions.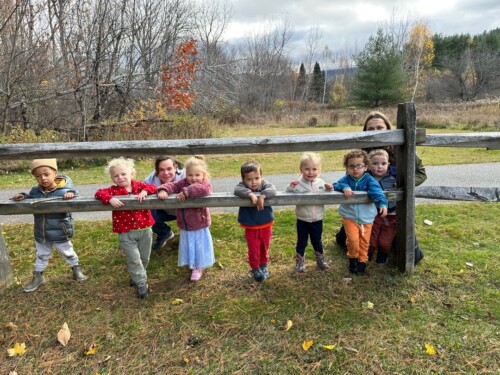 This is also an important developmental, social-emotional period, where parallel play turns to social play and interactions. Children of this age are beginning to understand their own feelings as well as the feelings and emotions of others. The teacher's use games and activities to help the children put a name to how they are feeling, providing children with the opportunity to express themselves emotionally.
Each classroom has as designated play ground and is outside twice per day. Not only is the outdoor playground space utilized, however we are fortunate enough to be located directly off the Stowe Bike Path where we have access to trails and wooded areas where we are able to explore. We also have 2 buses that are able to transport children to off-site field trips to local destinations. We have an outdoor education program and the instructor teaches the students and teachers various ways to enjoy the outdoors and the world that surrounds our location. This program is offered bi-weekly to each age group. This age group starts off using the Toddler playground, however as soon as everyone turns three, they begin to utilize the Preschool playground.
Contact the teachers at 802-253-4321
Meet the teachers
Sheila Lussier
Teacher, Bridge Program, Pine
Certificate in Early Childhood Education as a Lead Teacher, 5+ years teaching preschool, 20 years owner of home based childcare.
Kari Austin
Lead Teacher Bridge Program
AA equivalent in Early Education and Certificate in Early Education Global Implementation, 25+ years of experience.
Kacey Greene
Assistant Teacher, Bridge Program
BS in Therapeutic Recreation, 5+ years of experience