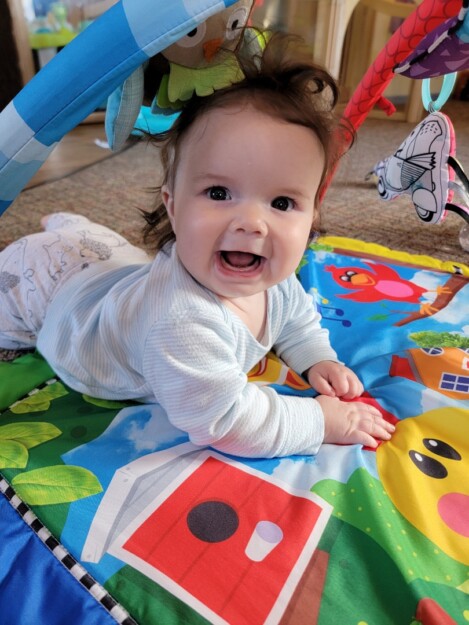 At Apple Tree Learning Centers our infant program is designed to serve children ages 7 weeks through 14-15 months of age. As this is probably a child's first extended experience away from home, every effort is made to make the transition a comfortable and happy one for both child and parent(s). We strive to create routines similar to ones at home, especially feeding and napping times. Our program offers a separate sleeping room to ensure a quiet napping environment.
This age is a time of great discovery and exploration. In support of the developmental milestones of this age group, we provide learning tools specifically designed for infants, and other materials to stimulate curiosity. We combine a variety of materials with opportunities to listen to stories, poetry and music, which make the infant center a warm and fun-loving environment.
Each classroom has as designated playground and is outside twice per day. Not only is the outdoor playground space utilized, we are fortunate enough to be located directly off the Stowe Bike Path where we are able to pull sleds, take stroller rides and even let them practice walking. . We have an outdoor education program and the instructor teaches the students and teachers various ways to enjoy the outdoors and the world that surrounds our location. This program is offered bi-weekly to each age group, including the infants.
All programs also receive music class with Andrea Soberman through her program, Musical Munchkins. Music is offered bi-weekly to each age group and is currently on Mondays.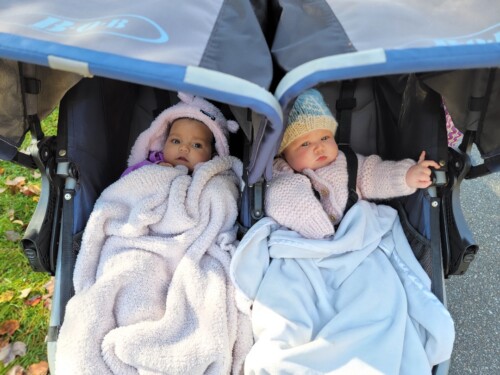 Apple Tree Learning Centers is a play-based program however even the Infants are exposed to colors, shapes, numbers, letters, art, sensory activities, song and dance, books, puzzles, and many other learning possibilities. These activities are offered through play which is geared around the developmental needs and interests of the children and through social interactions. The development of language and self-help skills are encouraged and promoted through creative and complementary opportunities. The Infant space is an inviting program that offer a diversity of age specific learning tools and social opportunities for the youngest of children.
Contact the teachers at 802-253-1989
Meet the Teachers
Sarah McManis
Co-Lead Teacher Infants
AA in Early Education and an AA in Liberal studies, working towards a BA in Psychology 3+ years of experience.
Emmalyn Hight
Assistant Teacher Infants
Fundamentals Early Education course and many college credits, 5+ years of experience
Felicia Therrien
Assistant Teacher Infants
Working on AA in Early Education, 2+ years experience